Return to site
The Big Give: Parkfield Primary School
Parkfield Primary School in North West London has become the beating heart of their community
Parkfield began to receive surplus food from City Harvest, among other food redistribution charities, in June 2020 in order to help to feed children and families within the school community over the Summer holidays.
This initiative has been ongoing since then and has seen a surge in demand during this second lockdown. Parkfield acts as a hub in Hendon and distributes to local primary school The Hyde School who are part of the same Academy Trust.
Alison Holding, head teacher, plus food rescuer, coordinates a weekly food distribution on Friday mornings with a team of volunteer parents and teachers to distribute food packages to recipient families. These packages have proven to be a fount of support for many children and families.
We caught up with Alison to find out more and to see the Parkfield School hub in action one busy Friday morning...
You must be glad schools are exempt from this second lockdown. How was the first one for Parkfield, can you tell us a little about your experience?
We had very few key workers' children in school and most of our work was focused on keeping in touch with vulnerable families as well as getting our virtual learning up and running. Our school caterers provided food boxes for children eligible for FSM for a couple of weeks. We realised that a food box was a good excuse to go and knock the door of vulnerable families we could not get hold of. In June, we invited in the year groups identified as a priority but still only had a small proportion of those classes so we carried on using phone calls, the virtual classroom and door knocks to keep in touch and engage everyone. In April the Government announced a voucher scheme for families eligible for FSM, but the system had so many issues that it was well into May before we could access them.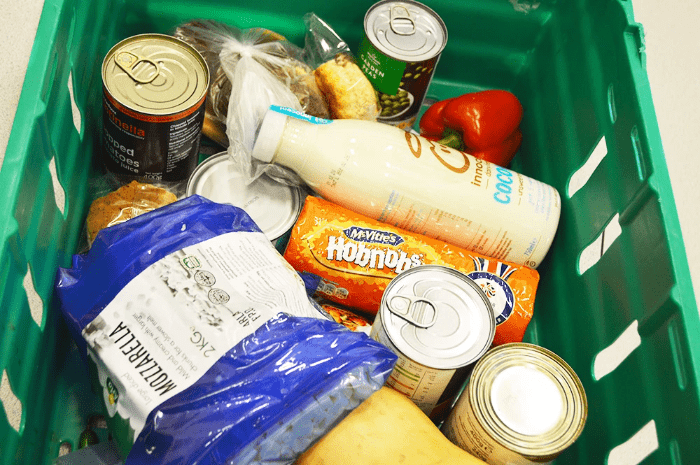 In June, we were given the opportunity to take part in a pilot which ran across our Academy Trust providing boxes for 15 weeks. We jumped at the chance. The first week we gave out 20 boxes, a few weeks in it grew to 80, which continued through the summer holidays when staff volunteered to come in every week. When it came to September and the school filled with children again, we decided to keep the scheme going. We have had to fit it into the other routines in school but the boxes have become the highlight of our week and we give out over 100 to our families and send a further 30 to a neighbouring school.
When one of our single mums was interviewed this week, she said that during lockdown, coming for the community box was her weekly outing where she saw other people. Although this project is primarily about food, it is also about supporting our community.
Your partnership with a nearby school shows such solidarity amongst schools and communities working together to help families and children. When did this partnership begin?
We are both part of the same Academy Trust and there is already a history of working together so when we felt we could stretch our offer we wanted to include them. Both schools have families from the same communities and the need is similar in both schools.
Approximately how many people benefit from your initiative?
About a third of the families at our school, 105 - 110 boxes which is about a third of our school. Probably 200 - 300 people in total. In addition, the 30 families at The Hyde would probably include up to 100 other people.
What have been the immediate challenges you have faced with this initiative?
Sourcing donations. City Harvest and FareShare have both been the core of our weekly offer but as demand grows we are stretching that and reaching out to as many local contacts as we can think of. In particular, we would like to offer items other than food. We have included an item for the children whenever we can and during lockdown we also included an educational activity.
We have occasionally been able to include hygiene and cleaning items but these are harder to source. For example, new toothbrushes and toothpaste were well received and, following the suggestion of a parent, we have managed to include sanitary products a couple of times which we ran out of very quickly. Demand is growing at Parkfield and The Hyde so we are going to have to work hard to meet that need in terms of working with donors and finding the space to manage even more boxes. We also have a third school not far away who would like to get involved.
Other issues include finding people to volunteer when distributing as well as finding the space, now we are back in full swing at school. The volunteers we do have are great and we rely upon them totally. They give up their time after school and during holidays to share all the food into boxes and distribute it.
We have to work on a strict timetable that involves everything being delivered, sorted and distributed after the school has had lunch on a Thursday and before everyone has lunch on Friday so we can deliver in that precise window. Fridge space has been an issue but we have received a donation of a freezer which has been a huge help.
Considering the recent decision regarding holiday FSMs, how do you feel your local community, businesses and institutions can step up to help this winter?
We are going to keep our scheme going so anyone who can donate to the cause can help with funding or items! At Parkfield we are hoping to provide a bumper box on 18th December and then start up again as soon as we are back in January. As an Academy Trust we are hoping that we can offer a box for the Christmas holidays to as many families as possible in all of our 28 schools.
What do you think have been the main contributing factors to more children and families relying on support and food provision?
Sudden unemployment for families who were already finding things difficult. Lack of security around social housing. Less support from other agencies during lockdown and beyond.