by Tay Motl, head of charities at City Harvest. Photographs by Agne Bekeraityte
Acton Homeless Concern is a drop-in centre open several times a week that offers a hot cooked lunch for anyone who wishes to come but particularly supports people who are homeless, socially isolated or needs support, based across two sites, Emmaus House and the Damien Centre.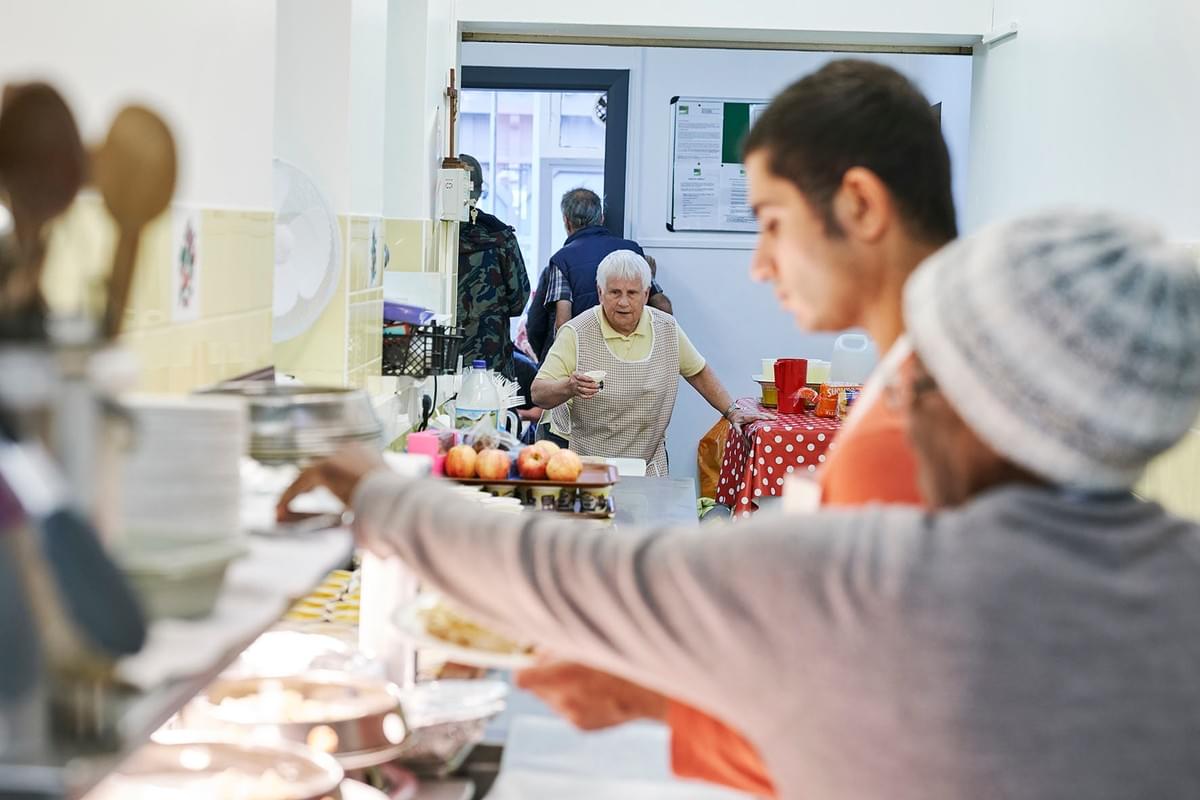 Sister Madeleine, who has volunteered here for 14 years told me how the centre started, "Acton Homeless Concern opened in 1989 by the parish priest, who is now the Bishop of Southwark. He saw the need of local people and wanted to offer a safe place for people to come. Everyone is nice here. About 70% of the people who come are homeless. We get around 160 people every day we are open and its mostly men. We don't allow drinking, if people are drunk we give them the food to takeaway".
When asked what the centre offers, Sister Madeleine told me, "We offer a hot lunch, showers are available and on Thursdays people can get clean clothes. Once a month the chiropodist visits and also the optician. We provide support to people when they need it most. People can also go to the Damien Centre, that's open in the evening and you can play cards and games and have a chat. It's important for people to have somewhere to go".
Whilst I and Agne, the photographer who volunteers her valuable time to help City Harvest visited, were there, lunch was just being served. Bolognese and pasta, colourful salads, bread, crisps, fruit and yoghurts were available and everyone enthusiastically tucked in to the generous portions dished up by the team of volunteers and regular staff.
One of the volunteers, a young man named Damien, who was helping out in the kitchen told me about his reasons for helping out, "People appreciate the food, you make friends, the old guys are good. It's a nice place to come. We need the food from City Harvest, without it we'd have to buy the food and that would mean we couldn't offer the range of food we do now, and the quality wouldn't be the same". Damien said he enjoyed helping and would always come as long as he was needed. I asked Damien what dish was the most popular with the guests, "Anything with chips. The burgers and sausages with chips go the quickest, but people like the salad and fruit that we serve up too".
I had a chat with Ian who has been the manager here and at the Damien Centre for 11 years. He told me, "Anyone is welcome, lots of people that come are homeless or pensioners . About 9% of our visitors are women. We provide support that is vital. The food from City Harvest allows us to feed more people. When I first came we spent most of our budget on food. City Harvest helps us survive".
Acton Homeless Concern used to be funded by Ealing council but no longer qualifies. Sister Madeleine told me, "Lots of our funding comes from the Irish government, they give us around £30,000 a year. Also, two local business men organise a golf tournament and donate the money raised from that to us and we get small grants. This helps us pay for wages, cleaning products and the up keep of the building." 
I asked Sister Madeleine if the money they saved by getting food from City Harvest helped them provide additional services. "The food from City Harvest is so important, it wouldn't be the same without it, we simply couldn't help as many people as we do without the donated food".
Next up I had a chance to meet one of the volunteers helping out that day, Javid, who was with his support worker Roger. Javid is autistic and found out about the centre via Ealing volunteer services and the charity Scope. Javid lives in supported housing and volunteers to gain work experience and build his confidence after finishing a cookery course at college. Javid told me he enjoys everything about helping at the centre, but particularly enjoys serving. He plans to come every Tuesday. Roger told me, "Acton Homeless Concern has given Javid the opportunity to practise what he has learnt at college, it's given him confidence. It's been a really positive experience. He would like to work full time as a kitchen assistant so coming here has been great for him. They have been very supportive".
Finally, I got the chance to meet a regular visitor to the centre, Graham Oliver. Graham is a priest and has led an extraordinary life. After having a cardiac arrest he started visiting the centre to get some cooked meals as he has difficulty cooking for himself. He had to prove to his doctors that he was eating properly. "They are very welcoming, I come here for security, love and care. The food is fabulous, especially the shepherd's pie. I come to meet people and have a good time. If this place wasn't here, I'd be destitute, I'd be out on the streets, it's a lifeline".
City Harvest are proud to support such a great project and be involved with the amazing positive impact it has on the visitors who rely on the much needed service,